About West Central Illinois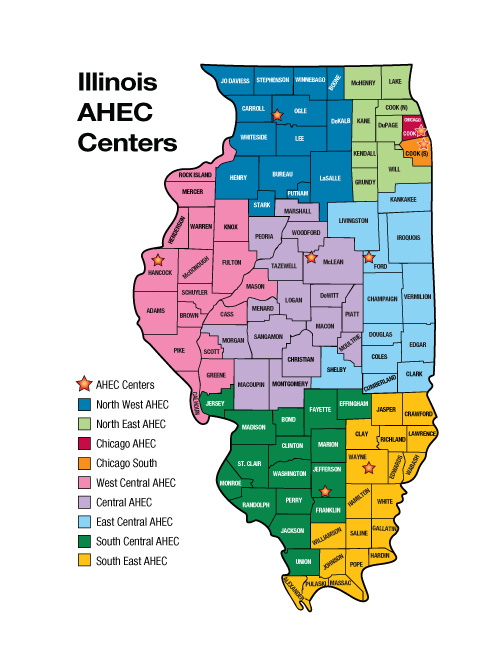 The West Central Illinois AHEC serves 17 counties in West Central Illinois to promote opportunities for those interested in learning about and exploring health careers, retaining healthcare professionals in rural and underserved areas, promoting health careers in rural and underserved areas, and working with communities to improve their overall health.
About our Location
Memorial Hospital in Carthage is the host site for the West Central Illinois AHEC.  The hospital also includes the Hancock Village Senior Services campus, which includes supportive living and memory care services.
The West Central Illinois AHEC is part of a facility that encourages leaders to lead, physicians to practice, staff to have a career, and patients to expect the highest quality care with the highest level of respect. Memorial Hospital continues to work with Western Illinois University, Carl Sandburg College, and Southeastern Community College.
About our Strategic Partners
Community partner organizations serve as our local connection to help identify needs, available resources, and potential opportunities to provide healthcare students experiences outside the classroom. Through the strategic partners within the community, students can be involved with the Hancock County Career Expo through our partnership with SIU School of Medicine and Hancock County Economic Development, the Hancock County Creating Entrepreneurial Opportunities (CEO) Program involving multiple community partnerships and area employers, the Rural Health Coach program through Western Illinois University (WIU), or Scrubs Academy through a partnership with Carl Sandburg College. Our passion for students being fully integrated into our hospital, having opportunities to develop new programs and services, and flourishing in their field of study provides resume-building activities for those interns.

Through a partnership with ICAHN (Illinois Critical Access Hospital Network), Western Illinois University, and Sarah D. Culbertson Hospital, a Rural Health Coach (RHC) program for students in various healthcare disciplines was created and has had wonderful success. We have also developed a volunteer program, as well. To apply for either program or to learn more, click on the link below.
Programs we Host:
Rural Health Careers
Pipeline Programs for those interested in health careers
Continuing Education Opportunities
Job Shadowing
Student Internships
Preceptor Site for professional students
Health professional clinical opportunities and community education
Public Health Explorers resources
Click below to learn more!