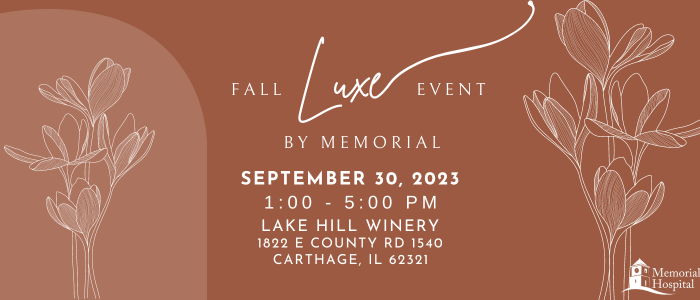 Memorial Hospital will host a Fall Luxe event on Saturday, September 30, from 1:00 – 5:00 pm at Lake Hill Winery. This extraordinary event will be filled with upscale vendors, healthcare screenings and education, heavy appetizers made by Memorial Hospital's Chef Amber Clark, live entertainment by Craig Corzatt, and more. The cost per ticket is $10 in advance and $15 at the door.
This Fall Luxe Event will present an experience like no other. Those in attendance can engage with Memorial Hospital's Health & Wellness Center, FOCUS Fitness, Memorial Hospital Foundation, Memorial Med Spa, Memorial Institute of Health & Healing, Memorial Medical Clinic Obstetrics & Gynecology, and Memorial Medical Clinics Dermatology services. Those that wish can dive into limited-seating breakout sessions hosted by a few of Memorial Hospital's renowned providers. Dr. Gina Bell, OB/GYN; Dr. Yoon Hang Kim; Dr. Christopher Jones, OB/GYN; and Katie Ruebush, DPT, PT, will lead engaging sessions by providing valuable insights and expert advice on their services at 630 Locust Street in Carthage. All mini session attendees will receive a special gift. To secure your seat in these mini sessions advance sign-up is required. Krista Carle, APRN-FNP, Dermatology, will also be available in the lounge area for meet and greet and conversation about healthy skin.
An exclusive lineup of vendors will also be available to offer the finest in fashion, beauty, and lifestyle. Those in attendance will be able to explore vendors such as North Side Java, Three Keys Collection, Belle's Loft, Ali and Co Hair & Skincare, Davidson Farms, The Watering Can Bloom Bar, Rural Bliss Graphic T-Shirt Bar, Cahill-Pribyl Jewelry and Gifts, Cups & Crafts, Tangles Hair Salon, Lashes by Grace, Permenant Jewelry by Cahill-Pribyl, Anderson Massage, Crane Hill Creations, Ohh That's Cute Designs, and more.
This event promises abundant opportunities for learning, shopping, and reconnecting with friends. To register for the breakout sessions or purchase advance tickets, visit Memorial Hospital's Facebook page at "Memorial Hospital in Carthage, IL," or visit the website at mhtlc.org. For any inquiries, feel free to reach out to Colleen Wildrick at (217) 357-8502.