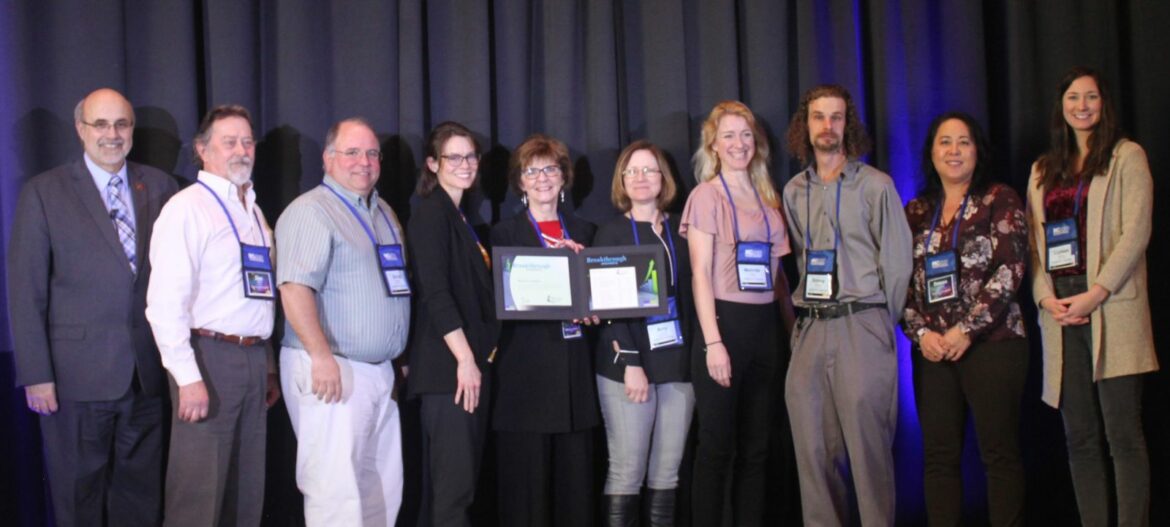 Left to right: Michael Bayer MBA, CSP with Custom Learning Systems; Memorial Hospital members Dan Earls, Maintenance Mech; Doug Groth, Memorial Hospital Board Member; Jen Garner, AHEC Assistant; Ada Bair, CEO, Amy Hurt, RN; Melinda Cole, Fiscal; Sidney Thrapp, Custodian; Donna Cheney, IT; Colleen Ewing, Care Coordinator.
MEMORIAL HOSPITAL PRESENTED HIGHEST AWARD OF EXCELLENCE
The 20th Annual Night of Excellence Summit Awards Celebration InterContinental New Orleans, New Orleans, LA
The Summit Award is the highest award of excellence presented at the HealthCare Service Excellence Conference. It is awarded to qualified, innovative, and progressive individuals, teams, and healthcare facilities who have made outstanding progress towards improving the patient experience and staff engagement. Individuals, teams, or organizations must be nominated to be eligible for a Summit Award.
In 2019, the Summit Awards committee received 214 nominations from 19 different healthcare organizations spanning 11 states. Fifty-seven (57) of the nominees were chosen as Pinnacle Achievers (the best of the best), and 16 of those were presented the Summit Award at the Night of Excellence held on Wednesday, January 29, 2020. Memorial Hospital organization received three (3) Pinnacle Awards, and one (1) Summit Award.
2019 Pinnacle Award Recipients:
Sidney Thrapp, Memorial Hospital Environmental Services Custodian – Service Excellence Advisor 1st Year
Dan Earls, Memorial Hospital Plant Operations Maintenance Mechanic – Implementation Coordinator
Ada Bair, Chief Executive Officer   Inspiring Administrator
2019 Summit Award Recipient:
Ada Bair, Chief Executive Officer  Inspiring Administrator
The 2019 Breakthrough Awards were open to all Service Excellence Initiative™ participants and alumni and highlights improvements and achievements of Patient Satisfaction and Patient Experience Scores within an organization. These awards were presented during the Breakthrough Awards Luncheon and serve to draw attention to and reward excellence in score improvement on the patient satisfaction surveys.  Memorial Hospital received fourteen (14) Breakthrough Awards and is recognized as a 4–STAR organization.
Both the 2019 Summit and Breakthrough Awards are presented by Custom Learning Systems during the annual HealthCare Service Excellence Conference, held this year at the InterContinental New Orleans in New Orleans, LA. (www.customlearning.com) The HealthCare Service Excellence Conference is dedicated to delivering evidence based solutions to help hospitals and other healthcare facilities improve the overall patient experience.
Memorial Hospital is dedicated to improving health by providing education and wellness programs and innovative services at all the stages of life.  Memorial Hospital is a 501(c)(3),  non-profit critical access hospital which employs over 200, offers emergency, surgical, imaging (x-ray), laboratory, obstetrics, transitional care swing bed, seven clinics throughout the region, specialty clinics and much more.  The hospital has served the residents of the Hancock County area since 1950. For more information, find us on the web at www.mhtlc.org.
#####